I'm constantly advising my clients on ways to make their rooms pop…but within a budget. So many buyers are going into larger spaces, needing furniture pieces that will fit their new home but won't break the bank. Sellers need advice on what to do to make the buyers drool over their interiors, but they don't want to overdo their home value to improvements ratio. I'm always getting asked about what improvements can be made to get the biggest bang for the buck when listing a property so, I put together a quick-list of my favorite, easy, and moderately priced hot looks – whether you're moving into a new place or working on getting rid of the old one!
Paint ($$): first of all, I only put two $$ because I think that everyone should hire a professional when painting. Yes, it's something we can do ourselves if our budget doesn't allow for it, but it always looks better when a professional does it. I know we all love the grey colors right now, but surprisingly they're on the way out and more natural tan colors are in. If you're looking to make a statement, I love the 2018 trend of Marigold. Valspar chose their Golden Ochre as their 2018 paint and it looks lovely in photos!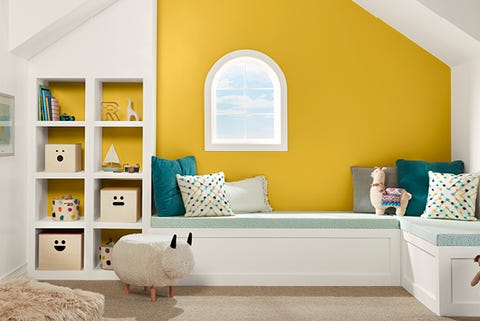 Ikea ($): I love me a trip to Ikea! The confusing yet inspirational layout, the super delicious and inexpensive food to keep you going…from start to check-out, the Ikea experience is superb. BUT…how do you shop Ikea without looking like you shop Ikea? Some hacks I ❤ are: putting new door pulls on drawers (I am a super fan of gold, circular pulls for dressers), spend the money on the pillows & throws if you're going cheaper on the couch/chair, use color blocking to spruce up plain color furniture pieces (I enjoy a pop of color on the legs and/or feet of furniture as it's not overwhelming), buy some expensive frames and put together a gallery wall above your couch to create the illusion of having paid a professional to lay it out! The other great thing I've learned is patterned tape, done patiently and will care, can add some geometric patterns the sides of plain pieces.
Kitchens ($$-$$$$): Here's the deal with kitchens…they can be super expensive to remodel, or you can be crafty and thoughtful with the improvements you choose to make. Not all kitchens require a full gut, if they do, it's important to understand if you'll get that money back (and then some) in the list price OR if your area market price isn't quite up there enough to justify you spending more. I think there are plenty quick and inexpensive ways to make that kitchen stand out: paint the cupboards and switch out door pulls (only the exteriors & doors), add a tile back splash but keep it timeless (subway tile is universal and appeals to almost everyone!), switch out the light fixtures (no need to go to Room & Board, go back to Ikea and check their stash!), put in under cabinet lighting (again, Ikea saved me here!), and freshen up the textiles (curtains and towels. I also go on trend with adding exposed shelves – so long as you can commit to keeping them tidy. The number one thing you should always do if you're prepping to sell is clear off those counters!
Furniture ($$): Despite the belief I'm sure I've instilled in you from my previous tips, I don't just shop Ikea! When looking for furniture, I like to check out WayFair & Houzz as well. The best tips I have for cheap furniture is to change out the legs: gold/metal legs are a great way to add a more expensive look to basic furniture. The other pro-tip I use often to make a living room pop more is to add heavy & over-sized coffee table books, I use Amazon for this! You can't go wrong with candles if you're looking to add ambiance – I get my over-sized statement candles from HomeGoods.
Odds and Ends ($): Hardware is the least expensive and easiest thing to change out – and I recommend that to probably 90% of my clients. You can find reasonably priced door pulls/knobs on Amazon or Etsy! The other thing is exposed shelving – if you have smaller rooms but want to show you also have storage, exposed shelving is the way to go. I'm a fan of using that for book storage rather than book shelves as those tend to get bulky. You can save money on those by getting inexpensive shelves, and springing a bit more for the brackets. The other great thing for brackets is to buy cheap, but use spray paint (good for metal) on them to give them a matte color look.